A History of
"Kanab Wonderstone" & "Kanab Goldenstone"
"Natures Most Beautiful Paintings"
While on a small game hunt outside of Kanab, Utah, Mr. W. Rex Brown, a lifetime resident of Kanab and an avid sportsman, noticed a colorful and interesting piece of sandstone at the foot of a small hill. Being preoccupied with the hunt, Rex admired the strange stone and quietly went on his way. Several years later, Rex's curiosity was aroused and he returned to the location to investigate his previous find. After Rex's first investigation he was disappointed to find, what seemed to be, only a small ledge of this beautiful, but extremely soft and seemingly useless sandstone.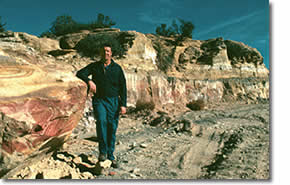 At a later date Rex returned to the site for a second look, bringing with him a neighbor and some tools. With chisels and hammers, the two men split apart a piece of the ledge. Rex's reaction was, in his words, "I couldn't believe my eyes."
The freshly broken ledge before them, exposed one of the most beautiful wonders of nature they had ever seen. A sandstone picture, complete with a blue-purple sky and a red, yellow, white and brown rolling landscape. Indeed they had discovered, "NATURES MOST BEAUTIFUL PAINTINGS."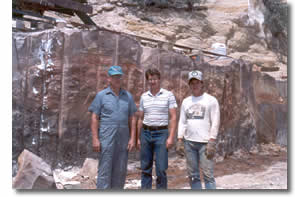 A partnership was then formed and work began in 1965. In 1967 a corporation, based in Kanab, Utah, was formed, named "Western Hills Rock & Gem Inc." The corporation was formed for the purpose of distributing the newly found material. The present building at 288 W. Center Street in Kanab was purchased in 1968 and has since been the home of "Kanab Wonderstone." In 1971 mining claims were secured to an additional local picture stone called "Kanab Goldenstone" mined along the Utah-Arizona border. Its name is aptly due to the predominant presence of gold and brown colors. This sandstone also looks as if someone had painted a landscape within the stone, thus its name, "picturestone."
In 2004 Western Hills began selling and distributing another type of picture stone called Arizona Sierra. This sandstone is very similar to the Kanab Goldenstone rock but is heat treated in order to oxidize the iron oxides in the rock, turning the stone to an orange-red color. Western Hills was finally able to purchase a claim to this very popular rock in 2015.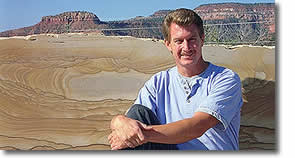 The three picturestones, together, make up the finest and most complete line of sandstone picture rock found anywhere in the world. Western Hills also purchases another stone that displays the beauty of Mother Nature, called Rhyolite, mined along the Utah-Nevada border. Rhyolite, also called Rainbow Rock, has a comparable texture to sandstone, even though it is a volcanic tuff.
---
Today Rex Brown's son, Ken Brown, owns and operates the family business. He is currently switching ownership to his son and daughter-in law who will be the third generation to have owned and operated the company. Western Hills is accomplishing its purpose of distributing the beautiful picture sandstone across the United States and abroad. Many of Rex's own children, grandchildren and great-grandchildren have participated in the Picture Sandstone's History. They are joined with other relatives and friends that have worked for Western Hills, in it's 50 plus years in business.